Finnish Commemorative 2009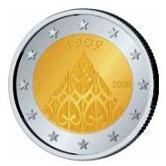 Details relating to the Finnish Commemorative of 2009.
Issue Date: 23.10.2009
Number Minted: 1,600,000
Mint: Mint of Finland Ltd.
Mint Mark : Lion.
---
This coin commemorates the 200th anniversary of Finnish autonomy.
In March 1809 in the southern Finnish town of Porvoo the first meeting of the Finnish parliament took place.
In the inner circle a profile of the Porvoo Cathedral is seen. This is a well known landmark of the town.
The mint mark is at nine o'clock and directly thereunder the country designation  "FI". The year of the  grounding the parliament 1809 at the top of the inner circle and finally the year of issue at three o'clock.
Return from Finnish Commemorative 2009 to euro coin collector.