Finnish Commemorative 2007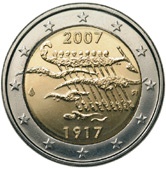 Details relating to the Finnish Commemorative of 2007.
Issue Date: 03.12.2007
Number Minted: 2,000,000
Mint: Mint of Finland Ltd.
Mint Mark : Lion.
---
This coin celebrates the 90th anniversary of Finnish independence.
On 6th December 1917 Finland declared its independence. This  was largely  occasioned by the weakening of Tsarist Russia by the Bolshevik revolution.
In the inner circle nine men are shown in a boat with long oars rowing towards the left (or West) which then symbolized freedom for the Finns. The men rowing together also represents the determination of the new Finnish nation to work together for their future.
The way the oars are shown also resembles (vaguely) a Finnish zither which played a large role in Finnish folk music.
At the top of the inner circle is the year of issue 2007 and at the bottomthe year being commemorated 1917.
Return from Finnish Commemorative 2007 to euro coin collector.