Finnish Commemorative 2004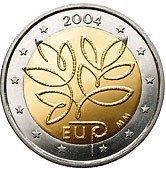 Details relating to the Finnish Commemorative of 2004.
Issue Date: 30.06.2004
Number Minted: 1,000,000
Mint: Mint of Finland Ltd.
Mint Mark : Lion.
---
This, the second commemorative coin to be issued celebrates the extension of EU in 2004 by ten additional members.
The new states were : Estonia,Latvia,Lithuania,Malta,Poland,Slovakia,Slovenia,The Czech Republic,Hungary,and Cyprus.
In the inner circle is a stylized pillar from which ten leaves are emerging – these of course representing the ten new members of the EU. The pillar under the leaves represents the foundation of the growth – the EU.
At the bottom is an artistic representation of the currency. The capital letters EU are followed by the Greek letter rho (in the Hellenic script) and with a little imagination one sees "Euro". The year of issue is at the top and at four o'clock are the letters "MM"  which represent the designer as well as the then director of the Finnish Mint.
Return from Finnish Commemorative 2004 to euro coin collector.