Estonian Commemorative 2022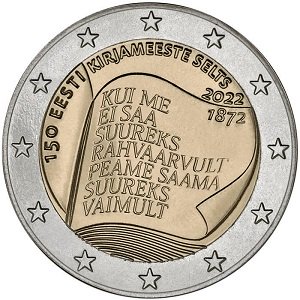 Details relating to the Estonian Commemorative of 2022.
Issue Date: 09.03.2022
Number Minted: 1,000,000
Mint: Lithuanian Lietuvos monetų kalykla in Vilnius.
Mint Mark :

---
This coin commemorates the 150th anniversary of the founding of the Estonian Society of Writers in 1872.
The motif of the coin shows an open book with the words (in Estonian) all in bold  in the upper case type:
"KUI ME EI SAA SUUREKS RAHVAARVULT, PEAME SAAMA SUURAKS VAIMULT" - in English "If we cannot be a great nation in numbers, then we must be great in spirit".
These were words of the first president (Jacob Hurt) of the society.

Around the edge of the inner circle from nine o'clock to two o'clock we see the inscription "150 EESTI KIRJAMEESTE SELTS" (150 Estonian Society of Writers).
Finally on the edge of the inner circle just after two o'clock are the year of issue and the date of the founding of the society - 2022 and 1872.
The coin has no mint mark.

Return from Estonian Commemorative 2022 to euro coin collector.