Estonian Commemorative 2020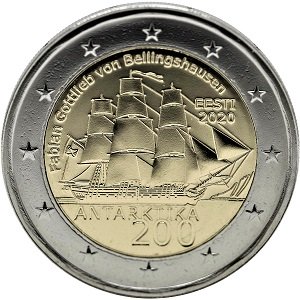 Details relating to the Estonian Commemorative of 2020.
Issue Date: 27.01.2020
Number Minted: 750,000
Mint:

Mint Mark :

---
This coin commemorates the 200th Anniversary of the discovery of the Antarctic continent by Gottlieb von Bellingshausen.
Bellingshausen, although a descendant of a German-Baltic noble family, served in the Imperial Russian Navy. In 1819 he lead the first Russian expedition to the southern polar region.
On 28th January 1820 he first sighted the ice shelf surrounding Antarctica and proceeded to circumnavigate and map the "ice continent".
The motif of the coin shows the ship Bellinghausen sailed in.
From the stern the then Russian naval war flag is seen. On the right between three and four o'clock on the edge of the inner circle the ice cliffs of Antarctica can be seen.
Around the edge of the inner circle between nine and two o'clock is the inscription "Fabian Gottlieb von Bellingshausen". At two o'clock we also see the name of the issuing country and the year of issue "EESTI 2020".
Finally in the arc at the bottom of the inner circle is the inscription  "ANTARKTIKA 200"

Return from Estonian Commemorative 2020 to euro coin collector.