Estonian Commemorative 2019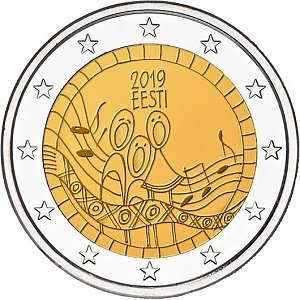 Details relating to the Estonian Commemorative of 2019.
Issue Date: 29.05.2019
Number Minted: 1,000,000
Mint:

Mint Mark :

---
This coin honours the institution of the "Baltic Song Festivals".

In 2003, the Baltic Song Festivals were recognized by UNESCO as a  cultural heritage within the program of "Masterpieces of the Oral/ Intangible Heritage of Humanity".
The motif of the coin which was designed by a student from Törva - Grete Lisette Gulbis. consists of the faces of three singing children.
Musical notes are shown in a stylised manner on wavy lines and represent the start of the Estonian national anthem.
Underneath these are further wavy lines containing a pattern "XOXOXOXOXO...". This apparently is network code for "hugs and kisses".

Above the singers, the year of issue and isuing coutry are shown "2019 EESTI".
Within the inner circle is another circle, giving a rim which is divided by small lines into many segments. If this has any symbolic meaning, I am unaware of it.


Return from Estonian Commemorative 2019 to euro coin collector.