Cypriot Commemorative 2020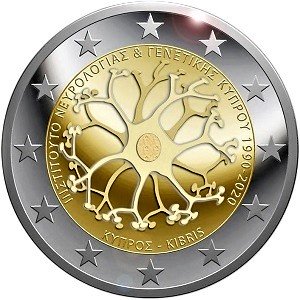 Details relating to the Cypriot Commemorative of 2020.
Issue Date: 01.12.2020
Number Minted: 412,000
Mint: Monnaie de Paris,Pessac
Mint Mark : none.
---
This coin celebrates the 30th Anniversary of the founding of the Cyprus Institute of Neurology and Genetics.
The institute has attained international renown in the field of neurogenetics.
The motif of the coin is very interesting and shows two superimposed nerve cells .
The wavy like arms represent the cells dendrites through which the cell receives information. The circle in the very center of the coin represents the cell's nucleus - the perikaryon.
Around the edge of the inner circle, running from eight to four o'clock is the inscription "ΙΝΣΤΙTOYΤΟ ΝΕΥΡΟΛΟΓΊΑΣ & ΓΕΝΕΤΙKHΣ KYΠΡΟY 1990–2020" (Cypriot Institute of Neurology and Genetics 1990–2020).
Around the edge, running from seven to five o'clock is the name of the issuing country in Greek and Turkish - "KYΠΡΟΣ - KIBRIS.
Return from Cypriot Commemorative 2020 to euro coin collector.