Belgian Commemorative 2020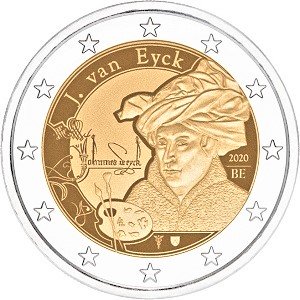 Details relating to the Belgian Commemorative of 2020.
Issue Date: 15.10.2020
Number Minted: 155,000
Mint: Royal Belgian Mint
Mint Mark :Head of Archangel Michael
---
This coin was minted in honour of the "Van Eyck Year" which 2020 was designated by the city of Ghent. The reason for this is that in 2020 Van Eyck's most famous work "The Ghent Altarpiece" was finally returned to St. Bavo's Cathedral after several years of restoration.
Van Eyck is often considered the founding father of Dutch Painting and is deemed by many to be its most famous representative.
The main motif of the coin occupying the right side of the coin's inner circle is a man painted by Van Eyck which is believed to be a self-portrait.
Around the edge of the inner circle, running from ten to one o'clock is the inscription "J. van Eyck" and his somewhat ornate signature is seen to the left of the face.
The year of issue and sign of the issuing country "2020 BE" are seen (one below the other) between three and four o'clock.
Between six and seven o'clock is an artist's palette and two brushes. The initials "LL" on the palette are those of the coin's designer "Luc Luycx".
To the right of the palette we see the mint mark and the coat of arms of the municipality of Herzele.

---
Return from Belgian Commemorative 2020 to euro coin collector.