Belgian Commemorative 2020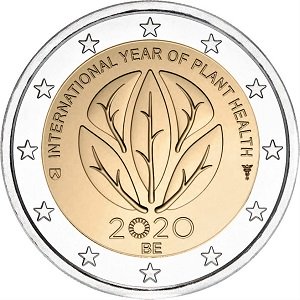 Details relating to the Belgian Commemorative of 2020.
Issue Date: 05.03.2020
Number Minted: 755,000
Mint: Royal Belgian Mint
Mint Mark :Head of Archangel Michael
---
This coin was issued to honour the International Year of Plant Health.
The motif of the coin is the official logo for the International Year of Plant Health and is to be seen in the centre of the inner circle. It shows healthy leaves in the form of a globe.
The leaves are seen as a source of oxygen and food all of which are essential to combating hunger and poverty and also play a very important role in protecting the environment.

Around the edge of the inner circle, running from nine o'clock to three o'clock is the inscription "INTERNATIONAL YEAR OF PLANT HEALTH"

At the bottom of the inner circle, above six o'clock are the year of issue and the code of the country of issue - "2020" and "BE". The first 0 in 2020 is shown as a circle of leaves.
On the left at around half past eight is the mint masters mark and on the right at around half past three is the mint mark.

Return from Belgian Commemorative 2020 to euro coin collector.