Belgian Commemorative 2017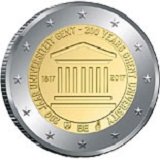 Details relating to the Belgian Commemorative of 2017.
Issue Date: 29.09.2017
Number Minted: 225,000
Mint: Royal Belgian Mint
Mint Mark :Head of Archangel Michael
---
This coin commemorates the 200th anniversary of the founding of the University of Ghent.
The University was founded in 1817 during the reign of King William I.
The main element of the motif shows the logo of the University with the years 1817 and 2017 to the left and right. Around this is a ring with, running from seven to five o'clock(anti-clockwise), the following inscription:"200 JAAR UNIVERSITEIT GENT - 200 YEARS GHENT UNIVERSITY".
At six o'clock is the country designation "BE". This is precede and followed by by the mark of the mint master and the mint mark.
Return from Belgian Commemorative 2017 to euro coin collector.