Belgian Commemorative 2012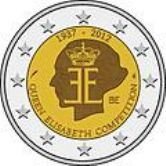 Details relating to the Belgian Commemorative of 2012.
Issue Date: 15.05.2012
Number Minted: 5,000,000
Mint: Royal Belgian Mint
Mint Mark :Head of Archangel Michael
---
This coin is to celebrate the 75th anniversary of the founding of the Queen Elisabeth Music Competition. This one of the best known music competitions and is for the disciplines piano, violin and composition.
In the inner circle is the emblem of the competition – a mirrored capital E surmounted by a crown. This is superimposed on an effigy of the queen. To the left of the effigy, at nine o'clock, is the mark of the mint master and to the right at three o'clock the mark of the mint - a helmeted profile of the Archangel Michael. The nationality BE is shown beside the effigy at four o'clock.
The years 1937-2012 are at the top of the coin and the words "QUEEN ELISABETH COMPETITION"  appear at the bottom.
Quite why this English institution appears on a Belgian coin, I don't know. Anyrate it has given rise to a very attractive Commemorative Coin, so as a collector I am grateful.
Return from Belgian Commemorative 2012 to euro coin collector.