Belgian Commemorative 2006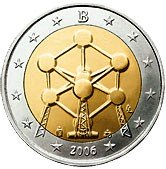 Details relating to the Belgian Commemorative of 2006.
Issue Date: 10.04.2006
Number Minted: 5,000,000
Mint: Royal Belgian Mint
Mint Mark :Head of Archangel Michael
---
This coin celebrates the renovation of the Brussels landmark – The Atomium.
The Atomium  was, in fact, constructed after the second world war (1958) on the occasion of first "World Expo". It was designed by André Waterkeyn as a symbol of the atomic age and of the peaceful use of atomic energy.
It is 102 meters high. The nine large spheres are assembled to represent an iron crystal.
At the bottom of the inner circle to the left and the right of the base of the Atomium are the mint mark and the mark of the mint director (the zodiac sign Libra). At four o'clock are the initials of the designer "LL".
Finally in the outer ring at the top and bottom respectively are the country designation B and the year of issue 2006.
Return from Belgian Commemorative 2006 to euro coin collector.