Austrian Commemorative 2016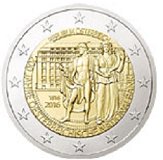 Details relating to the Austrian Commemorative of 2016.
Issue Date: 18.01.2016
Number Minted: 16,000,000
Mint: Austrian Mint AG
Mint Mark : none.
---
The coin celebrates the 200th anniversary of the founding of the Austrian National Bank.
In the inner circle the main entrance to the Austrian National Bank is shown in the background.
In the foreground we see two gods from Roman Mythology
On the left Mercury, the messenger of the gods as well as the god representing merchants and trade. He is holding the mercury wand.
On the right is Fortuna, the goddess who represents fate and wellbeing. She is holding a cornucopia.
Around the edge of the inner ring is the inscription "200 JAHRE OESTERREICHISCHE NATIONALBANK" .This runs from ten o'clock to three o'clock. At the top is the name of the issuing country "Österreich" (Austria).
The band of vertical stripes at the bottom represents the Austrian flag.
The representation of Mercury differs from the original in that a cloth is draped so as to cover his penis – a concession to the sensibilities of those of a delicate nature! Also of interest is that the German name for Austria is spelled with the Umlaut Ö at the top – Österreich but with OE in OESTERREICHBANK. I am not aware of the reason for this difference.
Return from Austrian Commemorative 2016 to euro coin collector.