Andorran Commemorative 2021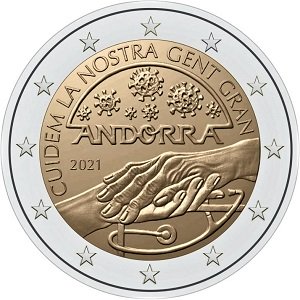 1Details relating to the Andorran Commemorative of 2020.
Issue Date: 15.12.2021
Number Minted: 70,000
Mint:

Mint Mark : None.
---
The commemorative coin is dedicated to the seniors who have been doing poorly during the COVID-19 pandemic, both from a health perspective and because of the social isolation they have endured.
The motif of the coin is designed to show the concern of Andorra for its elderly citizens.
Across the lower half of the coin we see an elderly hand outstretched and supported underneath by a younger hand. Beneath the hands is a stethescope and above are seven Corona viruses which are all however contained.
The name of the issuing country "ANDORRA" runs horizontally across the coin and the first and last letters are connected by a loop within which the Corona viruses are contained - symbolising protection for the people.
Around the edge of the inner circle running from eight o'clock to three o'clock is the inscription "CUIDEM LA NOSTRA GENT GRAN" (We take care of our seniors).

Just in from nine o'clock is the year of issue 2021.
The coin was minted with the Monnaie de Paris in Pessac but bears no mint mark.
---
Return from Andorran Commemorative 2021 to euro coin collector.