Andorran Commemorative 2021.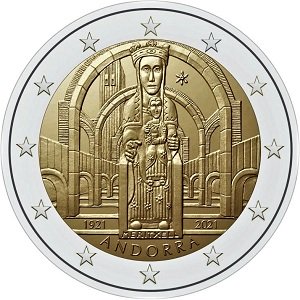 Details relating to the Andorran Commemorative of 2021.
Issue Date: 15.12.2021
Number Minted: 73,500
Mint:

Mint Mark : None.
This coin Commemorates the crowning of  "Our Lady of Meritxell" who is the patron saint of Andorra.
The motif of the coin shows a Romanesque sculpture of Our Lady of Meritxell with the inscription "MERITXELL" on the base of the statue.. The sculpture is said to date from around the 11th or 12th centuries.
In the background is a partial representation of the sanctuary of the basilica in which the sculpture is located.
On either side of the base of the statue are the dates 1921 and 2021 - 1921 being the coronation date and 2021 being the year of issue.

Finally at the bottom of the inner circle running from seven o'clock to five o'clock is the name of the issuing country "ANDORRA".

Return from Andorran Commemorative 2020 to euro coin collector.