Andorran Commemorative 2016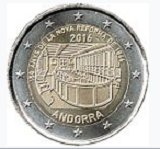 Details relating to the Andorran Commemorative of 2016.
Issue Date: 15.12.2016

Number Minted: 85,000
Mint: National

Mint Mark : none
---
The coin commemorates the 150th anniversary of  the "new reform ". The reform decree of 1866 counts as one of the mile stones in the history of Andorra and of the Andorran Parliament.
The reform contained, among other things, a new legal status for for Andorra as well as political and administrative innovations – the creation of a one chamber parliament, regular elections and the introduction of the right to vote for all family heads.
The motif for the coin is an image showing the main hall of the Andorran Parliament (Casa de la Vall), containing 28 seats.
Around the top edge of the inner circle is the inscription "150 ANYS DE LA NOVA REFORMA DE 1866"
And thereunder the year of issue 2016. At the bottom is the name of the issuing country "ANDORRA".
The coin has no mint mark.
Return from Andorran Commemorative 2016 to euro coin collector.