Andorran Commemorative 2016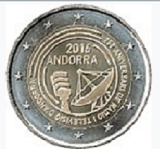 Details relating to the Andorran Commemorative of 2016.
Issue Date: 01.06.2016

Number Minted: 85,000
Mint: National

Mint Mark : none
---
The coin commemorates the 25th anniversary of official state broadcasting in Andorra.
Until 1981 all broadcasting in Andorra was in private hands. Why a coin has been issued in 2016 to commemorate 25 years of state run broadcasting when in fact it is 35 years since the inauguration of state broadcasting, I simply do not know. Perhaps time runs differently in Andorra!
The motif in the inner circle shows a microphone and an antenna. Several semicircles (one within the other) represent the transmitted radio waves.
Around the edge of the inner circle is the inscription " 25 è ANIVERSARI DE RADIO I TELEVISION D'ANDORRA" (25th Anniversary of radio and television in Andorra.
The coin has no mint mark.
Return from Andorran Commemorative 2016 to euro coin collector.