Andorran Commemorative 2015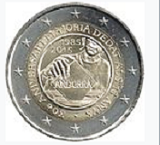 Details relating to the Andorran Commemorative of 2015.
Issue Date: 18.07.2016 (Although Commemorative of 2015 was only issued in 2016)

Number Minted: 80,000
Mint: National

Mint Mark : none
---
The coin celebrates the 30th anniversary of making 18 the Legal  Age.
Among other things the Legal Age carries with it the right to vote and this aspect is reflected in the design on the coin.
In the inner circle we see a young person casting his/her vote into the ballot box.
At the upper left (eleven o'clock) are the years 1985 - 2015 showing the period being celebrated. Within a ring surrounding the inner circle is the inscription "30è ANIVERSARI MAJORIA D'EDAT ALS 18 ANYS". This is the local language which I believe is Catalan.
An unusual feature is that there is no mint mark on the coin.
Return from Andorran Commemorative 2015 to euro coin collector.