Andorran Commemorative 2014


Details relating to the Andorran Commemorative of 2014.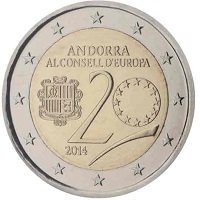 Issue Date: 29.02.2016 (Although Commemorative of 2015 was only issued in 2016)

Number Minted: 100,000
Mint: National:Real Casa de la Moneda

Mint Mark : none
---
This coin celebrates the 20th anniversary of Andorra's joining the Council of Europe.
The coin's  official year of issue is 2014 but various delays led to its only becoming available in 2016.
In the middle left of the inner circle is the coat of arms of Andorra. Then follows an artistic 20 with the 0 is represented by the flag of Europe. The arc under the 20 does not have, as far as I am aware, any particular significance. 
At the top of the inner circle we see "ANDORRA ALCONSELLD'EUROPE" (Andorra in the Council of Europe).
The coin does not have a mint mark.
Return from Andorran Commemorative 2014 to euro coin collector.