Maltese Commemorative 2020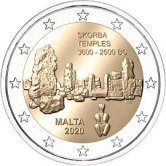 Details relating to the Maltese Commemorative of 2020.
Issue Date: 24.07.2020
Number Minted: 180,000
Mint: Monnaie de Paris.
Mint Mark :

---
1500 / 5000
Übersetzungsergebnisse
The design competitions of the "From children with solidarity" campaign at secondary schools in Malta won the design of the coin by the student Ymen Riahi - the proceeds from the minting will benefit an aid organization. The coin motif shows a collection of popular traditional games and play equipment used by Maltese children, such as marbles, spinning tops, balls and kites, as they are traditionally made and let fly. Three bees flying in a circle allude to a popular Maltese children's song. The Maltese jumping game "Il-Passju" is also shown: A chalk grid is drawn on the street with numbers from 1 to 9, which represent the nine months of pregnancy. Each of the two children playing, starting with number one, must throw a stone on each numbered field. If the stone lands on the correct number, the player has to hop onto the corresponding field. If this is successful, it goes on to the next number. If it is not possible to get the stone into the correct space, it is the other player's turn. The winner is whoever reaches number 9 first. Above is the name of the issuing country "Malta" in handwritten letters, and the year of issue "2020" below. The mint took place in the French mint Monnaie de Paris in Pessac; the coin specimens contained in coincards bear the mint mark, a cornucopia, to the left of the state name, and to the right of it a pentagon [260] as the mint master mark Yves Sampos.

This is the fifth coin of the seven-part series "Prehistoric Sites of Malta".

The prehistoric Site honoured in this Commemcorative is the Neolithic West Temple of Skorba.
This temple is believed to have been built around 3,600 B.C. to 2,500 B.C. The temple complex was declared a UNESCO World Heritage Site in 1992.
The motif, while attractive, is simple, just showing a South-East interior view of the temple.
Near the top right quadrant of the inner circle - around twelve to two o'clock is the inscription "SKORBA TEMPLES 3600 - 2500 BC"
In the vbottom left quadrant of the inner circle is an inscription showing the country and year of issue "Malta 2020"



Return from Maltese Commemorative 2020 to euro coin collector.